Atlas Apartments and its strategic location
Atlas Apartments Ibiza is located in the municipality of Santa Eulalia des Riu in Ibiza, thanks to its strategic location, you can reach the most beautiful bays of Ibiza in a short time. Santa Eularia des Riu, municipality of the Ibiza Island, home to around 20.000 inhabitants, is the second largest municipality by extension of Ibiza. Its coast extends from Cap Martinet to the vicinity of Cala de SainVincent. It is one of the municipalities where a large part of Ibiza's tourism is concentrated, but this does not mean that Santa Eularia is not a quiet place ideal for families.
Santa Eularia receives its name by the single river (Baleares River) that flows through this municipality. Nowadays the river is dry, but the recently inaugurated Vell Bridge is the perfect place to see a stream of water thanks to the miracles of technology. The municipal boundaries of Santa Eularia include the small villages of Sant Carles de Peralta, Santa Geltrudis de Fruitera and Our Lady of Jesus. In addition, in the town of Santa Eularia des Riu, there are also modern urbanizations like Siesta, where is located the complex of Atlas Apartments, Cala Llonga, Rocca Lisa and Es Canar.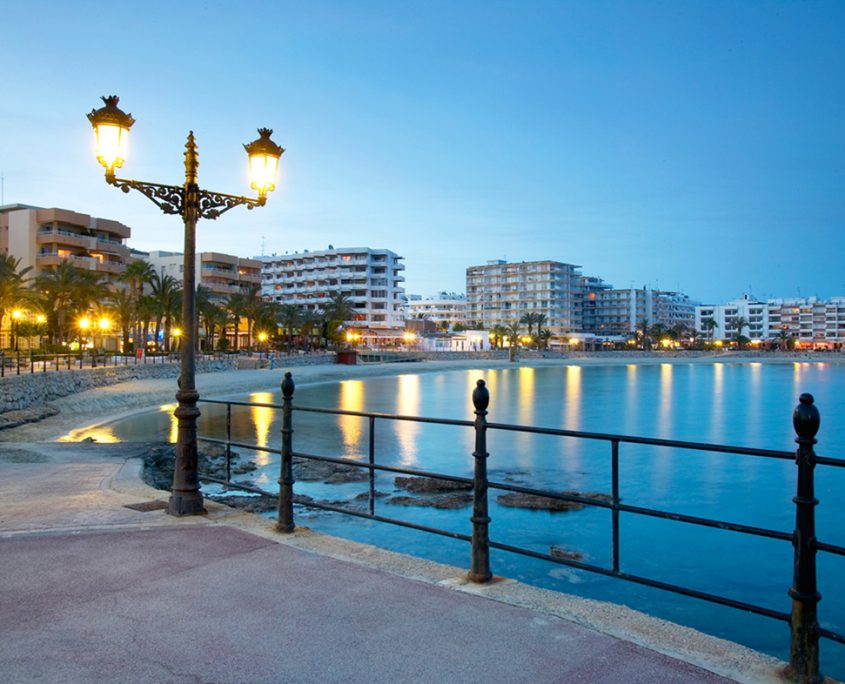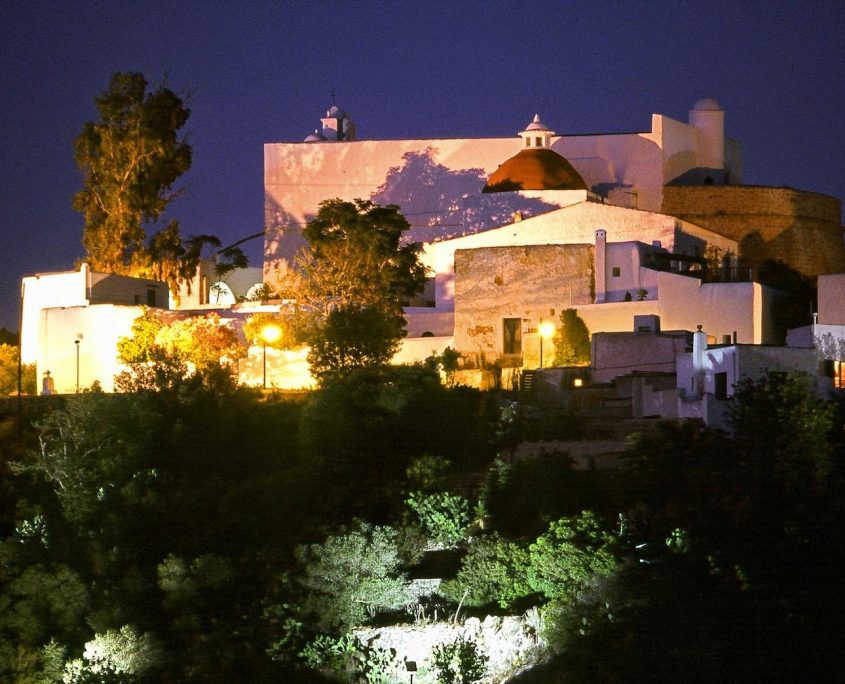 The town of Santa Eularia is a place where you can breathe light and tranquility, and where you can find business premises of all types: bars, restaurants, specialty shops, museums, marine sports facilities and markets. The town is crowned by the Pug de Missa, if you come from Ibiza is the first thing you can see in this place.
Certainly, the Puig de Missa is the most beautiful architectural ensemble on the island; it consists of a fortified church, a cemetery and some private houses. In Puig de Missa you can visit the Ethnological Museum of Pitiuses Island located in an ancient house called Can Ros. There, the traditional garments used by farmers and the different tools they used to work in the field are exposed.
The Sant Jaume Street, full of commercial services, is the nerve center of the city. It crosses the town from east to west and divides it into two parts: the ancient area, crowned by the Puig de Missa, and the modern area located around the village of S'Alamera.
Santa Eularia beach has a modern marine road, pedestrian area with several bars offering different types of cuisine. Nearby Santa Eulalia beach, there is a small urban center called Es Canar, in there you will find all kinds of tourist services as well as a small fishing port. Facing the beach are the islets of Es Canar and Sa Galera.
Near Es Canar is located Punta Arabi, where from May to October takes place the hippie market known all over the world. In this hippie market hundreds of artisans from different parts of the world gather, not to mention other stalls that sell items produced by local artisans.